Welcome
- Apartments Male Mandre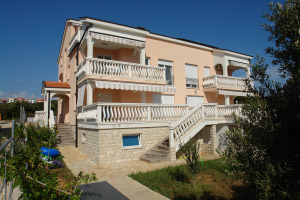 The place Mandre evolved – due to a supreme effort of its people – in a pretty short time from one small fishing village to a modern tourist place becoming a holiday destination for more and more tourists from all over the world. The nature was here really generous by giving to the habitants an exceptionally convenient position on the island, crystal-clear sea, wonderful sandy beaches in the place and its surroundings as well as untiring fishermen who are very often winemakers at the same time and take care about a sufficient supply of fish and wine for hosts and tourists every day.
Our apartments are situated in Mandre , in the part named Mala Mandra where our house has a dominant position over the bay and the sandy beach 100 m far from it. The nearest way to the other sandy beach is 80 m. We offer our guests accomodation in 4 modern equiped apartments for 2 to 6 persons. We secure private parking close to the house for all our guests.
We would like to invite you to come to Mandre and enjoy sunny days and crystal-clear sea and beaches, good foods and drinks and sunsets of exceptional beauty .
Mandre
- island Pag, Croatia
Mandre - is a tourist resort located in the southern part of the island of Pag. Mandre offers a gorgeous view of Silba and Olib and of the little islands Maun and Skrda which abound in coves and beautiful beaches. There is a beach with clear blue sea which extends along Mandre.
It is a perfect place for those who want a peaceful vacation in magnificent natural surroundings of evergreen oaks, drystone walls and crystalline blue sea.
The island of Pag is one of the biggest Adriatic islands: it is the fifth largest island with 284.50 square kilometres. Its 270 kilometres of the indented coastline make it the island with the longest coastline on the Adriatic, rich with coves, bays, beaches and capes.